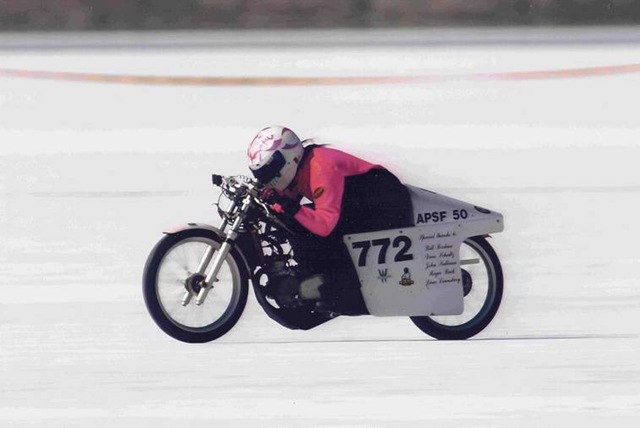 Cobra Powers Land Speed Record at Bonneville
NORTH LIMA, Ohio, (October 18, 2005) – In a recent AMA-sanctioned competition that was a bit of a departure from winning everything imaginable in the world of mini cycle racing, Cobra engineers, in cooperation with Alabama-based Wagner Racing, mounted an American-built Cobra 50cc engine into a custom motorcycle and made two passes at the legendary Bonneville Salt Flats – achieving a two run average speed of nearly 75 miles per hour and breaking the previous land speed record in its class by five mph.
The Cobra-powered bike broke the old AMA 50cc AG (Altered Gasoline) record of 69.633 mph by running a wind-aided 78.399 mph on the first pass, then coming back into a headwind at 71.106 mph – for an official combined time of 74.852.
"This was a project that Bud (Maimone) and Cobra engineer Alex Uspenski had worked on for several years with Wagner Racing's Wiltz Wagner," explained Sean Hilbert, President of Cobra Motorcycles. "Wiltz had approached us a while back after hearing of the success of our King 50 bike, featuring an engine that's built right here in the States. And not that we were really worried about it, but now we can 'officially' say (Hilbert grins) that the Cobra 50cc engine is the fastest 50 on the planet. In all honesty, I think there's quite a bit left in that thing."
Wiltz Wagner of Wagner Racing began working on small displacement motorcycles in 1987. Combining on the project with his late wife, Wagner initially set out to break the record by modifying a Kawasaki KX 60 engine. When that project failed he (Wagner) went through a number of other engines, particularly ones produced in Japan, Italy and Spain. Not able to distance the gap on the record, Wagner approached Cobra and the two set out to power Wagner's daughter, Belen, faster than anybody had ever gone on a 50cc bike.
"When Wiltz called over to the shop we though this would be something fun, a bit different," said Maimone. "We did some dyno work, then tested with a stock motocross clutch. But we had some problems in that Bonneville's at 4,200 feet and the clutch wouldn't hook up properly. So we did some thinking and ended up fitting a 50cc top end on our six speed transmission. The end result broke the existing world record with ease."
Keep in mind also that in order to race the AMA-sanctioned land speed record attempts at Bonneville one must possess a valid driver's license. That being said, Maimone was asked what would happed if an eight-year-old Cobra factory racer got on the Wagner Racing bike – rather than a 34-year old woman.
"That scenario would be very interesting," said Maimone. "And I think if the AMA allowed it we'd have a line of Cobra kids wanting to break the very land speed record we just set."
Source: http://cobramoto.com/2005/10/24/cobra-powers-land-speed-record-bonneville/